Our Practice Area
The practice welcomes new patients who live within our catchment area. The map to the right outlines our practice area.
To find out more or make enquires about whether you live in our practice area, please contact our reception team on 01925 823502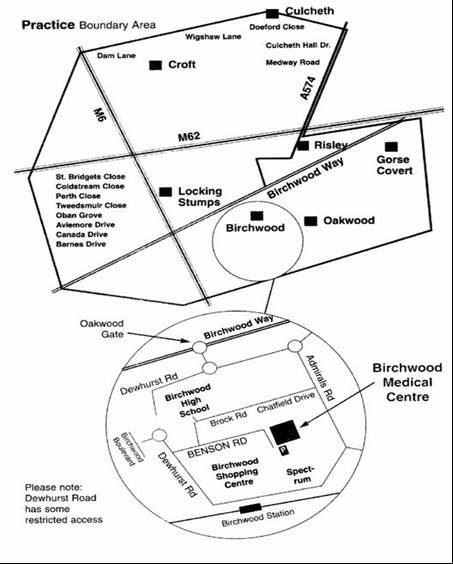 How To Register at Birchwood Medical Centre
If you do live in our practice area, you can use the links below to download our online pre-registration forms to complete and hand in to our reception team.
Please complete both our patient questionnaire and the registration form.
We also require the following information
Your NHS Number- which can be found on medical card/hospital letter/or obtained from your previous GP
Photo ID- e.g. passport/driving license/bus pass/college card
Proof of Address- e.g. rental agreement/utility bill/mortgage letter (within the last 3 months)
After completing these forms, please either email them to us along with your ID to warccg.receptionbirchwood@nhs.net
Or you can bring the forms to reception with your ID to show to our reception team. We are encouraging patients to email us at the present time to reduce the risk of transmission of coronavirus.
Once your forms have been processed, we will offer you an appointment with a Healthcare Assistant for a New Patient Health Check. You may be asked to attend a 2nd appointment with one of the doctors or our clinical Pharmacist if you take regular medication or have any long-term medical conditions.
Temporary Registrations
If you are ill while away from home or if you are not registered with a doctor but need to see one you can receive emergency treatment from the local GP practice for 14 days. After 14 days you will need to register as a temporary or permanent patient.
You can be registered as a temporary patient for up to three months. This will allow you to be on the local practice list and still remain a patient of your permanent GP. After three months you will have to re-register as a temporary patient or permanently register with that practice.
To register as a temporary patient simply contact the local practice you wish to use. Practices do not have to accept you as a temporary patient although they do have an obligation to offer emergency treatment. You cannot register as a temporary patient at a practice in the town or area where you are already registered.
Accountable GP
All new and existing patients at Birchwood Medical Centre are required to be allocated a "named accountable GP" as this is now a requirement of every GP practice's contract with NHS England.
What does 'accountable' mean?
The named accountable GP is responsible for the co-ordination of all appropriate services required under the contract and ensure they are delivered to each patient where required.
However, this does not mean that they will be the only GP or clinician who will provide care to that patient.
These responsibilities will be carried out within the opening hours of the Practice and do not change the way you currently access care outside these hours.
The Practice will allocate a named GP for each patient.
Do patients have to see their named GP when they book an appointment?
No. Patients can, and should, feel free to choose to see any GP or nurse in the practice in line with current arrangements. As all patients have an electronic medical record this ensures that all clinicians in the Practice have access to the most accurate and up to date information. If you request an urgent appointment, this will be with any of the doctors who have available appointments on that day.
Please be aware that this does not affect your ability to make an appointment with any of the GPs in the practice of your choosing.
If you wish to know who your accountable GP is, please ask any member of our reception team.
Non English Speakers
These fact sheets have been written to explain the role of UK health services, the National Health Service (NHS), to newly-arrived individuals seeking asylum. They cover issues such as the role of GPs, their function as gatekeepers to the health services, how to register and how to access emergency services.
Special care has been taken to ensure that information is given in clear language, and the content and style has been tested with user groups.
Open the leaflets in one of the following languages:
Access
There are a small number of disabled parking spaces at the front of the medical centre and additional dedicated spaces at the side of Aldi Supermarket (opposite the medical centre). Please do not park on the road.
Our surgery is accessible to patients using a wheelchair. Automatic doors have been installed to access the surgery and consulting room corridor. A toilet for wheelchair users is also available, please ask at reception.
For patients with hearing problems, we have a loop hearing system available at reception and for use in consulting rooms.