URGENT UPDATE - THURS 30TH DECEMBER
All our staff do regular lateral flow tests to make sure we keep all our patients safe, sadly sometimes these are positive need we have to book PCR tests. Also sometimes our staff become unwell too and have to have Covid PCR swabs done because of their symptoms.
Due to multiple positive PCR test results with staff, we can only see emergencies today and tomorrow.
Do remember that you can go to you local pharmacy or ring 111 for advice.
As always the we will be doing our best to get through all urgent matters as quickly as we can.
Thank you for your
patience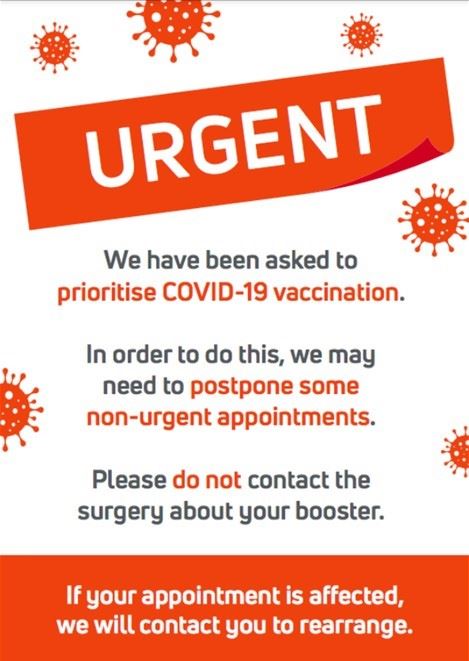 IMPORTANT UPDATE - COVID VACCINATIONS & BOOSTER PROGRAMME
Due to the recent governments announcement to increase covid vaccinations and a push to increase the Covid Vaccination Booster Programme, we have been asked by NHS England to prioritise our services at this time to prioritise Covid-19 vaccinations.
Our practice staff, including doctors, practice nurses & members of our admin team are working in local vaccination sites to support this push to get as many people vaccinated against Covid-19 as quickly as possible.
This may mean our routine services may be disrupted for a short time whilst our staff are working elsewhere.
We are still here to help look after you, but please can we remind you to only attend the surgery if you are asked to do so. This is especially important as cases of Covid-19 are increasing in the area and we want to keep you our patients, including those vulnerable and our staff as safe as we can.
We thank you for your patience during this time.
HOW ARE WE PRIORITISING COVID-19 VACCINATIONS?
EConsult & Online Appointments have been temporarily suspended with the support of Warrington CCG as this is only for routine queries or health concerns. This is a short term measure whilst we have reduced staff in the practice to be able to manage workload and your care safely and efficiently.
Therefore we ask if you would normally have used eConsult or booked an online appointment to read the information below on alternative ways of getting in touch.
Sick Note Requests or Extensions
Please email our general office admin team on warccg.prescriptionsbirchwood@nhs.net to request a sick note.
Please include your full name, date of birth, address as well as information about why you require the sick note to be included in the email along with the start & finish date required.
Please be mindful we cannot date sick notes in advance, so please only request one when it is due. It may take 3 working days to process your request, but we can back date sick notes if required.
Prescription Requests or Medication Queries
You can order your medication through several other ways instead of using eConsult.
Please see our Prescriptions Page for more information
New Patient Registration Forms
Do We Have Your Correct Contact Telephone Number?
If you have a new mobile phone number or we do not have your mobile phone number please let us know so we can update your records.
We can then send you information by text message as well as sick notes via a link and your test results.
Routine Health Queries & Non-Urgent Symptoms
Please telephone our reception team on 01925 823502 to speak to a member of our team who will be able to advise you on the next steps.
This may be a telephone appointment with a doctor or nurse, or it may be that another service can help you more efficiently & quickly.
Some routine appointments will be postponed to allow us to prioritise urgent appointments and Covid-19 Vaccinations.
Covid Booster Enquires
We are working through our patients and inviting them to the local vaccination site based at Spencer House as clinics are available for us to book you into.
Please do not ring the practice to ask about when you will be invited as this distracts our staff from other urgent work within the practice.
Please be reassured we will invite you when we can.
Alternatively you can book your own Covid-19 Vaccinations including boosters by calling 119 or using the NHS National Booking Service online.
For any other queries - please telephone reception on 01925 823502 instead of coming down to the practice in person.
Only attend the practice if you have been asked to come down by a member of staff.
Welcome to Birchwood Medical Centre
Birchwood Medical Centre has been established since 1976 and serves the communities of Birchwood (Oakwood, Locking Stumps & Gorse Covert) as well as Croft and Culcheth to the north together with Longbarn and Cinnamon Brow to the east. Our current list size is 11,211.
We operate from a large purpose built premises near to the shopping centre in Birchwood.
We offer full general medical practice services and additional and enhanced services from our team.
At Birchwood Medical Centre, we aim to treat all our patients promptly, courteously and in complete confidence. We feel it is important you know who you are speaking to, so our practice staff will identify themselves on the telephone.