New Telephone System Launched
From Thursday 11th November 2011, we are excited to announce we will have a new telephone system in operation.
There will be new features which benefit our patients.
We have increased the number of phone lines into the practice as well as a new queue-buster system where, at busy times, you can choose to hang up and your place will be saved in the call queue. The system will then ring you back when your place in the virtual queue nears the front.
The telephone system also is integrated into our clinical computer system, allowing us to more easily update your telephone numbers when you call us.
All calls, both incoming & outgoing, will be recorded for training & quality purposes.
Our staff have been trained to use the new telephone system, but please be patient with us in the early days once it is launched.
Important Announcements & Information
Proof of COVID-19 Vaccinations for Travel
Please do not call the practice to ask for proof of Covid-19 Vaccinations.
We do not supply letters for this purpose, patients can obtain evidence by using the NHS App or calling 119 directly.
You will however need our practice ODS code to link the NHS App to your medical records. Our ODS code is N81114.
More information is detailed below:
You will need to evidence COVID-19 vaccinations before travelling to international destinations
Countries will decide whether they require proof of COVID-19 vaccination for entry, and it is the traveller's responsibility to check individual requirements. If needed, people in England who have both vaccine doses will be able to demonstrate their COVID-19 vaccination status via the NHS App from 17 May 2021.
Patients who have noticed errors on their NHS app relating to their Covid-19 Vaccinations not appearing or incorrect information can now ring 119, option 3 and the data resolution (reactive) service will help.
Those without access to the app can request a letter from the NHS proving their vaccination status by calling 119.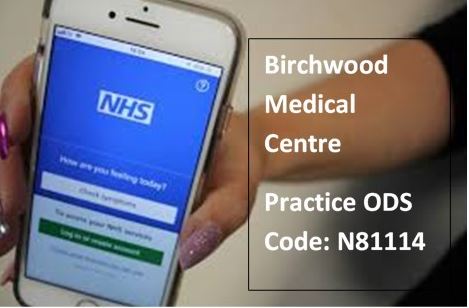 Welcome to Birchwood Medical Centre
Birchwood Medical Centre has been established since 1976 and serves the communities of Birchwood (Oakwood, Locking Stumps & Gorse Covert) as well as Croft and Culcheth to the north together with Longbarn and Cinnamon Brow to the east. Our current list size is 11,211.
We operate from a large purpose built premises near to the shopping centre in Birchwood.
We offer full general medical practice services and additional and enhanced services from our team.
At Birchwood Medical Centre, we aim to treat all our patients promptly, courteously and in complete confidence. We feel it is important you know who you are speaking to, so our practice staff will identify themselves on the telephone.